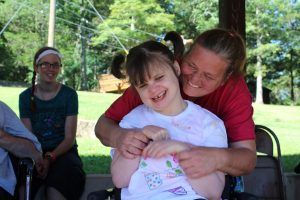 For nearly 10 years Cindy Briggs has found a home at Pony Bird. Even though it was the career she was looking for, she didn't immediately realize it when she applied for the job as a Direct Support Professional providing daily care to individuals with intellectual and physical disabilities.
"At that point in time I was just looking for a job, and the opportunity fell into my lap," Cindy said. "I have always been drawn to people with special needs."
She has a family member with spina bifida and worked in the past with the De Soto School District providing services to the children who needed extra assistance. The love she receives in return from Pony Bird residents is the real reward of the job, she said.
"The individuals love you unconditionally. They accept you for who you are with no judgment," Cindy said. "When I come into work, and they hear my voice, they greet me with joy. They are just so happy."
Cindy currently serves as the assistant supervisor at Pony Bird in De Soto. She moved up the career ladder from DSP to Medication Assistant before she was given the opportunity to apply for the supervisory position.
"I have had a lot of good role models who have worked with me," Cindy said. "I am able to use my own abilities and learn from how others do their job. Then I compare it to what I am doing and adjust my approach to make sure we are always doing what is best for the individuals."
She compared working at Pony Bird to the caregiver opportunities at nursing homes but said the differences in the roles are easily identified.
"We work hard, but we have fewer people to care for, so they get much better care. The DSPs, MAs, and supervisors care for the residents individually," Cindy said. "They all have unique personalities, and the staff gets to know them for who they are as individuals."
Her approach to providing care is based on a simple model, she said. "It's all about letting them know they are loved and returning the love they give."
Her plan works for everyone. She said that even if she has a bad day, feels tired, or has other personal concerns, when she arrives for a shift and hears the greetings from the residents, she finds herself in a happy place.
"It's like, OK I'm home," Cindy said. "Pony Bird is an excellent place. The staff cares about the individuals and treats them like we are all part of one big family."